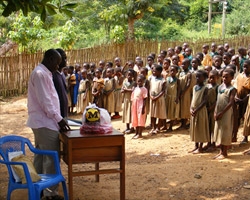 Helping this pupils is our major priority
The Girl-Child Needs Adequate Formal Education

There is increasing concern now than ever for parents and the nation at large to invest in the education of the girl-child. With technological advancements at global levels, it has become obvious that the individuals as well as the nation have major roles to play in order to improve upon the living conditions of the citizenry. The fact that good education will emancipate women and their children, the vulnerable groups in society, and for that matter increase women's participation in development issues, cannot be over-emphasised.
Many girls enroll in school with their male counterparts but most of the girls are unable to go further for various reasons. Some of them discontinue their education because of the lack of parental care resulting from broken homes which sometimes lead to forced marriages and unwanted pregnancies, lack of motivation or poor traditional perceptions about the girl-child being in school.
However, all these obstacles not withstanding, the girl-child needs to be advised to enroll and stay in school as their counterpart boys do. The affirmative action implemented by some tertiary institutions whereby entry grades are adjusted to make room for the intake of more girls is good but more needs to be done at the basic level to retain girls in school. This is envisaged to help many of them get to the threshold of success.
According to statistics, females form the greater percentage of the nation's population; there is, therefore, the need to empower them to be elevated to certain levels so that the inadequacies in their education will not affect the country's development. The girl-child needs to be encouraged to go further and acquire sufficient knowledge. This will expose females to employable skills and other viable avenues to open them up to job opportunities which will enhance their status and bring them economic emancipation.
Well-educated girls who become mothers will be able to manage their domestic affairs judiciously. They will insist on well- planned homes and invest in the education of their children because of their economic empowerment. This can reduce the number of children we have on our streets, as well as the number of women who contract HIV/AIDS, other sexually transmitted diseases (STDS) and it can also ease the financial burden on responsible fathers thereby bringing peace and harmony to homes.
The girl-child who stays long enough in school would not need any other person to read instructions on operating manuals to her before she installs or uses appliances wherever she may be. She will also read and understand instructions on medications before administering them to herself or to her children. In other words, adequate education will enlighten women to become less superstitious. All these will reflect in the upbringing of their children. It will be a form of inspiration to those who come into contact with such women and their children.
It is gratifying to note that the few well-educated women in the society play significant roles in nation building because they are mentally and emotionally exposed and emancipated. Therefore, when more girls acquire higher academic laurels, this nation will be in a better position to develop faster than what is going on now. Moreover, with adequate education, women become empowered, independent, more courageous, and vocal as well as avoid indulgence in activities that inhibit their progress. For example, with adequate education and enlightenment, mothers themselves will be in a unique position to deal with child trafficking which is becoming a canker, so many years after the abolishing of slavery. They will no longer entertain people who come to deceive them about the up-keep of their children.
The government has done well by passing the Domestic Violence Act (Act 732). It is now left to the public in general and to women in particular to articulate and know what to do when problems arise. As of now, most women are afraid or feel shy to talk to people about their problems. They keep quiet until situations get out of control. So many acts of violence take place especially gender-based violence are settled at home without bringing the perpetrators to book because in the first place, some of the victims and relatives do not know how to access legal aid and secondly, they are afraid of stigmatisation. Adequate education will free girls and for that matter women from intimidation and let them move forward. Education and determination are the only means by which the fair sex can get out of the doldrums.
With more girls staying in school to have the requisite knowledge, the number of women in politics and other leadership positions will increase. There are fewer women in politics now because most of them are not well resourced.
The educated ones can mentor, motivate and impart positive attitudes and principles among the rest in the society. This can positively affect our cultural and traditional values concerning women. The nation will be looking forward to having a female president when women are equipped with adequate education.
The need for adequate girl-child education has been of great concern to many people over the years. The late Doctor Aggrey simply put it that "When you educate a woman, you educate a nation but when you educate a man, you educate an individual" With this famous expression in mind, governments over the years have put various structures in place to cater for girl-child education. We have had the Free Compulsory Universal Basic Education (FCUBE) and now it is the New Education Reform. It is therefore left to all and sundry to contribute their quota by making sure that the girl-child of school going age in every nook and cranny is sent to school and helped to stay in school. In this way, as Doctor Aggrey envisaged so many years ago, the nation will be educated.
A leading Ghanaian educator says standards have fallen in recent years…
TIP: GHANA / FIFTY YEARS – Since gaining independence fifty years ago, Ghana has made significant strides in education. Many officials credit the improvements to past governments as well as to the current administration, headed by President John Kufuor. Together, they say, the policy initiatives have contributed to meeting the educational needs and aspirations of the Ghanaian people. But Professor Jophus Anamuah-Mensah, the vice chancellor of the University of Education in Winneba, disagrees. In the final installment of our series on fiftieth independence anniversary of Ghana, we focus on education.
At the dawn of independence, Ghana had only one university and a few primary and secondary schools. Today, there are over 12 thousand primary schools, and over one thousand junior an senior high (secondary) schools. In addition, there are over a dozen technical institutions and five universities.
Many say in comparison to other Africans, Ghanaians have ready access to education.
Professor Anamuah-Mensah said although Ghanaian education was once rated the best in Africa, in recent years it lost that status when many of the teachers left for better pay and opportunities abroad.
"Since independence, education at that time was rated as the best Africa country with the best education system because we were able to get almost everybody into the schools, and the quality of education was high. But with time the quality of education deteriorated; economic conditions were not favorable; a lot of teachers left for other Africa countries especially Nigeria," he said.
Anamuah-Mensah said the quality of education was damaged by the exodus of Ghanaian teachers abroad. "You couldn't find enough teachers in the schools and therefore education really went down. Until 1987 we embarked upon the educational reform, which tried to address the issues, but could not because the teachers were still not around," he said.
Anamuah-Mensah said teachers play a significant role. "In any educational system the teacher plays a critical role. If you don't have the right kind of qualified teachers and in the right numbers, you would not be able to make it. Teachers that we have in the primary schools all went through the teacher training colleges, they have certificates A. Certificate A, is not sufficient enough for these modern times," he said.
Anamuah-Mensah said all the teachers need further education themselves. "We need to re-train all the teachers that we have and prepare them well for the new age that we have entered into. We had all those structures as we mentioned, but without the teachers to man and really help to nurture the young children to acquire the right skills and so on, we would not be able to respond positive to this. We are still behind because the teachers are not there," Anamuah-Mensah noted.
He said the education system needs a major investment to enable Ghana regain its past glory.
"I think a lot of money should be pumped in education, because education is the mainstay of this country. We need to ensure that we provide the junior secondary and senior secondary schools with IT facilities so everybody there would be computer literate.… We need to ensure that the laboratories are there, the research departments of the universities need to be adequately funded…. I believe that if we keep on doing the right things, Ghana can regain its past glory and rub shoulders with the international world," he said.

Educational Needs.
Ages---------3years ------------------ 18years
1.Learning Books------------from Primary to Snr.High School
Science, Mathematics, English,Social Studies,Agriculture, Economics,Business, Accounting,and other Books.
2.Writting Materials----------Pen,Pencils, Crayons, Chalk,Blackboard,mathematecal set,drawing board,and others.
3.Building Infrastructure------ Helping Erect new blocks of classrooms,playground,entertainment centres,recreational centres.school KVIP's --place of convenient, borehole water.
4.Electronics----Computers,laptops and other electronic equipments for early learning and other.
5.Provide School sandals,shoes,school uniforms, school back pack's, bicycles ,and other items that can help improve the learning capabilities of the children to improve themselves. School tables and chairs, School desk,Teachers Desk and chair, Office equipments,and accessories are all welcome.